Prop Hire – by Creature Events
At Creature Events – we have amassed a range of weird and wonderful items from our years of experience and NOW your Film, TV, Advert or Event can hire our amazing Props! Our Prop Hire Department has everything from Skeletons to Sharks to Weapons and Armour. So whatever you need in terms of Prop Hire, always check with us at Awesome Entertainment and see what we have !
We also have a range of Film Prop Hire as used in Movies from the big screen! To see them CLICK HERE
Looking for our most Unique Prop Hire ? CLICK HERE
CREATURE
Dinosaur Skeleton – Bones – Skulls – Teeth
We have a variety of real and replica dinosaur skeletons, skulls and teeth available including, T-Rex Skeleton, T-Rex Tooth, T-Rex Skull, Mososaur Jaw and many others. These are perfect for Film, TV or event display.
Jurassic Park – The T-Rex Leg !
This is a really exciting piece and an absolute rarity. One of the T-Rex's legs from Jurassic Park. Actually crafted by Stan Winston and his team, this leg is not only a hugely impressive prop for any event or TV / Film moment, it's also the most recognisable prop in movie history! So whether is an event, Film or TV requirement – talk to us about it!
Jurassic Park – The T-Rex Head x 2
Want something with a little more bite? These casts from the original mold's of the T-Rex heads. The T-Rex was created in lots of different sizes for an array of shots and these heads are smaller than full scale yet still really impressive. Get up close with the REAL thing and hire our Dinosaur Heads for
Great White Shark
What an amazing photo opportunity! Have your guest pose in a panic – or if for TV or Film and the ultimate scenery with some bite. Nibbles the sharkis MASSIVE and is available in and out of water and can be used in a number of ways.
Animals – Crocodile Heads Snake Scorpions
We have three version of the crocodile props available two are just heads the third is full body. The heads are film quality hero shot applicable and one is open mouth the other is closed. We also have two film quality snakes and three film quality scorpions, all are pose-able / flexible.
Body Parts
Assorted Body Parts available from Human Skeletons with some flesh (rotten), severed hands to forearm (with flesh / fresh), Severed Feet (with flesh / fresh), Female torso with chest stab wound and bleeding effects, Severed Head.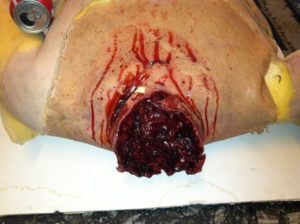 WEAPONS
Fencing
We have four full sets on fencing gear, including swords (foils), jackets, masks and gloves. They are in used condition but in very good condition.
Rubber Weapons Branch – Rock – Knives
We have an array of rubber weapons including a rubber rock as used in Judge Dredd, rubber log as used in The Hike, rubber Hammer. We have several rubber Commando Daggers, as well as some metal blunt versions.
Swords
Blades
Modern Firearms & Futuristic Firearms
CARS / TRANSPORT
We have an array of vehicles from Lamborghini's to Pick Up Tricks and Prestige Cars. These can be used in TV and Film as well as for events – Ask for details
PERIOD
We have a wide selection of Helmets – Swords – Saddles – Knights Armour – Horse Tack as well as  Western Firearms & Western Saddles – Ask for details
Come and checkout our Awesome Entertainment Prop Hire on Facebook