We have some exciting Dinosaur Installations options for client looking to add a full time Dino Activity or Attraction to their Venue! This option is a buy and keep product and you can either Install it in a single location or move it around your venue.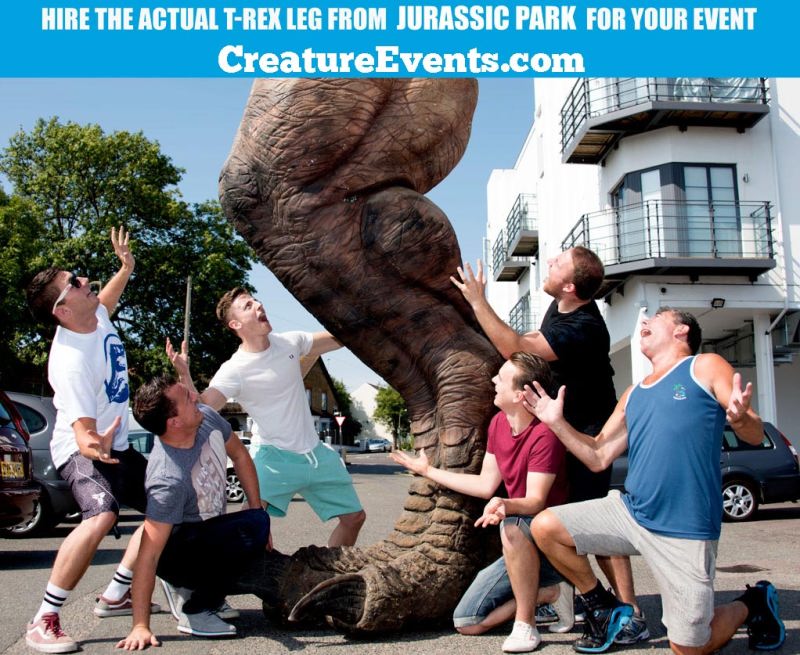 From our Interactive Dinosaur Discovery Dig Installation  and the optional consumables add on's to our T-Rex foot print casts, molded from the actual T-Rex leg from Jurassic Park!   The T-Rex in Jurassic Park is an icon in one of the most iconic films ever made, so having the footprint is a real attraction in itself.
Dinosaur Installations
Dinosaur Fossil Display
Would you like a Museum grade fossil display? We can provide you an amazing range of fossils and related display pieces for your event or venue. Available on long and short term loan, we have an amazing range of pieces including:
Dinosaur Skulls
Dinosaur Skeleton
Mosasaur Jaw Bone
T-Rex Tooth
Misc Dinosaur Teeth
Raptor Claw
Small & Medium Dinosaur Egg
Woolly Mammoth Tusk Ivory
Ammonites & Trilobites
Dinosaur Discovery Dig Installation
The Dinosaur Discovery Dig Installation comes in both a standard and a custom size and available as a stand alone product OR with the option of additional consumable add on's that can generate increased revenue!
Option 1: £550
Dinosaur Discovery Dig Installation in our standard size of 1.2m by 1.2m and contains a juvenile T-Rex skeleton, Raptor claw, Ammonite and Trilobite. These fossils are cast from our stock of fossils and casts and are embedded in a 'bedrock'. The bedrock and fossils are covered in child safe sand and or sand wood mix (also child safe).
Option 2: £675
The Dinosaur Dig Installation as in Option 1: – but with the added option of adding in one of our Fossil Packs that the users can dig out and either hand over to the staff to be identified that you may have on the dig.  If you choose to let children keep the fossils they find, you can subscribe to our Regular Fossil Order
Add on 1 –  Regular Fossil Order
Subscribe to our Regular Fossil Order and receive a regular pack of fossils that can be utilised within the Dinosaur Dig Installation OR as part of any other activity.  Regular Fossil Order subscriptions are available in different volumes and contain a number of different fossils including: Ammonite, Trilobite, Assorted Bone, Teeth
Pack of 200 per month
Pack of 400 per month
Pack of 1000 per month
Add on 2 –  Video Instruction
Want a video to run to automatically deliver instructions to your visitors and guests? Add on our Instructional Video and turn the Dinosaur Discovery Dig Instal into a Multi Media interactive Activity.  The video helps the kids identify the fossils they have found.
The Installation is available by our team or we can ship you the product to self install with or without the sand provided by us. You can supply your own sand if you prefer, in order to save on delivery costs – OR we are happy to provide you our child safe mix of sand and wood chip.
Jurassic Park  T-Rex Footprint
Step into the magic of Jurassic Park by actually stepping into the T-Rex footprint!  This amazing offer is a limited run and once they are gone they are gone! We were very lucky to get our hands on one of the few legs built for the original Jurassic Park movie and we just love it. We wanted to share a bit of the magic and now it's available for venues and private collectors to buy!
The Foot imprint is set into a hardened concrete mix and can be either set into or above the ground in either a rough or smooth finish.
Each foot imprint is numbered and signed by our creator and you get a certificate of authenticity.
Jurassic Park T-Rex Footprint: £575
Jurassic Park T-Rex Footprint (pair): £1050     – Save a £100 !
Email us for a Quote  and order your Dinosaur Installations for your Venue!
Other Props
At Creature Events we have an amazing range of props and pieces for installations take a look at them below and if you see something you like, let us know and we can arrange something amazing for you !
Want to know more about what we do at creature events? Check us out on FACEBOOK
We have lots of amazing creatures for a wide range of Live Events, TV, Film and many other uses!  Lions, Apes, Dragons, Dinosaurs, Werewolves, Bigfoot, Yeti, Sharks, Hybrids, Superheros and much much more! Do you want something totally bespoke? We can do that too! What about creating an immersive experience? No problem! Talk to our team TODAY and see what we can do for you !